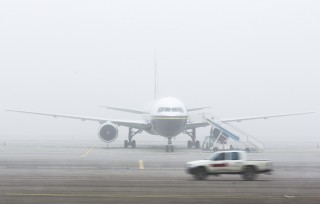 Are you entitled to compensation for flight delays and cancellations as a result of the fog in London south-east England today?
More than 100 flights have been cancelled by British Airways today as a result of thick fog covering south-east England. Most cancellations have occurred at London Heathrow, London City and Docklands airport. BA have asked passengers not to come to the airport unless they have confirmation that their flight is running.
A number of other airlines have also cancelled flights in and out of Heathrow including KLM, Brussels Airlines and Polish airline Lot. Heathrow is the busiest airport in Europe and the cancellations have jeopardised connections for thousands of passengers.
Which flights in the UK are cancelled?
The majority of the cancellations are short haul flights; however, a small number of intercontinental flights have also been cancelled including a United Airlines flight to Chicago. The different types of cancellations have provoked interesting aspects of the flight delay and cancellation compensation laws.
Am I entitled to compensation for a delayed or cancelled flight?
For example, where flights are cancelled or delayed, European airlines are obliged to provide passengers with meals and where necessary accommodation. These rules also protect passengers flying with non-EU airlines but only where their flight is leaving from an EU airport. This means that whilst passengers flying from Heathrow to Chicago will be entitled to care from United Airlines, passengers delayed from non-EU airports flying into Heathrow will not be provided the same level of protection.
Furthermore, as the delays have been caused by extreme weather conditions, passengers are not able to make a flight delay compensation claim for delayed or cancelled flights. You should check your gravel insurance policy to find out if you can make a claim for any costs incurred by your delayed or cancelled flights in these circumstances.
More Information on Delayed or Cancelled Flights
We have created a comprehensive guide to Flight Delay Compensation claims, find out more below.
Related > Flight Delay Compensation Guide
To find out the current status of any flight, check here: http://www.flightstats.co.uk/home.do
Follow us on Social
Twitter - @unlockthelaw
Facebook - unlockthelaw
YouTube - UnlockTheLaw