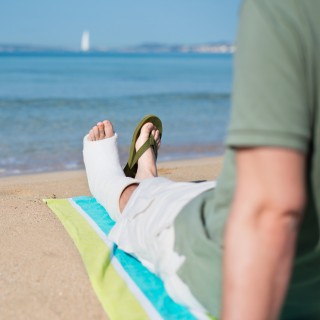 If you have been injured in an accident whilst on holiday, you may be able to claim compensation. If you booked your holiday as part of a package, you may be able to make your claim against the package holiday organiser. If you make a claim against your package holiday organiser you will be able to make your claim in the UK - even if the accident occurred abroad. This post looks at some of the main legal and practical issues surrounding compensation claims for accidents on holiday, and helps you understand your options for making a claim.
Who can I claim compensation from for my accident abroad?
In order to claim compensation from your package organiser in the UK, your accident must have occurred in one of the following places:
• At your hotel or on your hotel grounds. For example, if you tripped on a path that was badly maintained at the hotel, or contracted food poisoning from the hotel restaurant.
• On an excursion activity or trip organised as part of your package holiday. For example if you are injured whilst taking part in an activity that is unsafe, or you are not given proper equipment or guidance for carrying out the activity.
Under these circumstances, it may be possible to make a claim against your package holiday provider for compensation for your injury.
Who is to blame for the accident?
If the accident is entirely your fault, it is unlikely you will be able to claim compensation. For example where you disobey safety rules such as running at the side of the hotel pool. However, if you are only partially to blame for your accident you may be awarded compensation on this basis.
In order to claim compensation for your accident, you must be able to prove that the organiser or their representatives (this may include hotel staff, activities operators or tour guides) were negligent in their actions. For example, if you were not warned of certain risks or dangers or the hotel grounds were badly maintained your package organiser may be held responsible for your accident.
What should I do if I have been involved in an accident on holiday?
If you are involved in an accident whilst you are on holiday, it is important that you report the accident as soon as possible. You should report the accident firstly to the representative of your package holiday organiser at the hotel or resort, or where they are not available to the organiser's head office in the UK. You should also report the accident to management at your hotel or resort and ensure they record it in their accident book. You should also ask for a copy of this record.
Furthermore, you should also contact your travel insurance provider. They will be able to provide you with advice of your policy and medical situation. It is important to be aware that some travel insurance policies dictate very strict time limits for reporting accidents and thus you should be sure to contact them as soon as possible and check your travel document before you go.
Making a Personal Injury Claim for an Accident on Holiday
As soon as you realise you have been injured, you should seek medical attention. Where you fail to get medical help for an injury as soon as possible you condition may worsen and your claim for compensation may be affected. You should keep track of any discomfort or inconvenience suffered as a result of your injury and also receipts for any expenses incurred.
You should make sure you get a copy of any medical reports made in relation to your injury and also the names and contact details of any witnesses to the accident or the site of the accident. It may also be beneficial to take photos of the site of the accident, or anything which contributed to your injury. All of these things can assist in making a successful personal injury claim.
On your return to the UK, you should contact a specialist personal injury solicitor who will be able to advise you on the exact circumstances of your claim.
CONTACT A SPECIALIST PERSONAL INJURY SOLICITOR
At Unlock the Law, whilst we offer free information on personal injury claims we can also connect you with the expert solicitors who can help you make a successful claim should you think it necessary. We only recommend lawyers that are specialists in their field of law and offer excellent customer service. If you think you may have a personal injury claim call us today to be connected to one of our trusted personal injury partners. There's no obligation and you can call free on: 0808 274 3187