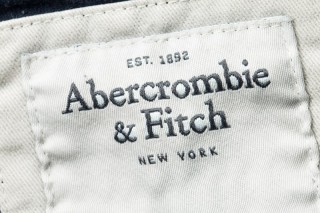 It seems that the torturous plight of the Abercrombie worker may be coming to an end - being forced to look unnaturally attractive only to spend your days in a darkened-assault -on-the-senses, day after day, can't be easy.
The former CEO Mike Jeffries has ended his reign over the high street store and new management have scrapped the 'attractiveness' doctrine, ended the topless models on bags policy, committed to increased lighting and decided they don't need to waft aftershave into the streets Ding dong, the witch is dead.
New president, Christos Angelides, and also Fran Horowitz, head of sister-company Hollister, told the media that they believe stores pandered to Jeffries' whims for too long. However, conditions were even worse for Jeffries' private staff - he put together a 40-plus page manual that dictated how staff on his private jet should dress and behave. You really have to question how the CEO of such a large company has that kind of time on his hands.
The new heads are looking to tackle an institutional problem, which has resulted in litigation for the company in the past. A case was brought before the Supreme Court recently by Samantha Elauf, who believes she was refused a job on the grounds that she wears a head scarf and doesn't fit with the company's look policy.
Times have been hard for the Abercrombie worker, and also for the unattractive applicants for roles in their stores. We look at the legal issues surrounding Abercrombie's previous policies and hopefully assist you if you are suffering the same cruel fate.
Can I be forced to always look attractive under my contract of employment? We all have bad hair days you know...
Under UK law appearance is not a characteristic protected by the Equality Act. This means that attractive-only hiring policies are permitted under the law.
Furthermore, employers may choose to enforce a dress code to ensure workers are safe and that they are dressed appropriately for the role they carry out. There are however rules about dress codes:
Employers must avoid unlawful discrimination in any dress code policy
Dress codes must apply to both men and women equally, however they may have different requirements
Reasonable adjustments must be made for disabled people if a dress code is in place
Employers must also avoid unlawful discrimination in any dress code
It is possible that dress code policies discriminate against people with certain protected characteristics such as age, religion or disability. For example, if an employer's policy states that no one over 25 is to be hired, this may amount to unlawful discrimination.
The Equality Act covers the whole life-cycle of employment so if you are fired, or not hired on the basis of the way you look and this can be related to age, religion or disability you could have a discrimination claim.
Can I be sent home or not paid if I don't look entirely on point?
Employers must be reasonable and the dress code standard must be proportionate to what they are trying to achieve. Being slightly less polished on a bad day won't usually undermine their business plan and thus they should not send you home without pay.
However, non-compliance with an employer's dress code can be a disciplinary offence, and you could be dismissed for not complying with the guidelines if you have no good reason for refusing. You must however be given adequate warning and time to comply with the code.
I work in the dark. No one even sees me. Actually, are there rules about working in the dark?
Generally, your employer has a duty of care to ensure health and safety at work - this includes adequate lighting. The level of lighting will depend on the role you are carrying out and is at the employer's discretion, however if you suffer from any detrimental effects connected to poor lighting, for example: eyestrain, migraines and headaches, lethargy, irritability or poor concentration you may have a claim against your employer.
I've not been looking after myself recently and I now only work night shift in the bell tower (stock room) so the common folk can't see how grotesque I am. Is this discrimination?
Unlawful discrimination only applies if you have a protected characteristic and you are being treated less favourably on the grounds of that protected characteristic. A good example comes from another law suit over Abercrombie's attractiveness regime. In 2009 a disabled worker was successful in making an employment tribunal claim against the London flagship store after they had been "hiding" her in a stockroom because her prosthetic arm didn't agree with the company's "look policy". This is disability discrimination, however if you have just let yourself go, were afraid you are at the mercy of the high street beauty pageant that is Abercrombie and Fitch. But hey, at least you can turn the lights on.
UK EMPLOYMENT LAW GUIDES - Your Rights in the Workplace
Get more information from our UK Employment Law Guides.
If you think you could get a job at Abercrombie and Fitch now you don't have to be outstandingly attractive, click here.
If you are outstandingly attractive and feel aggrieved about the good-looking policy being scrapped, please leave your name and number in our enquiry form sheet and someone will get back to you.
Filter Out the Noise & Join the Debate
Twitter - @unlockthelaw
Facebook - unlockthelaw
YouTube - UnlockTheLaw